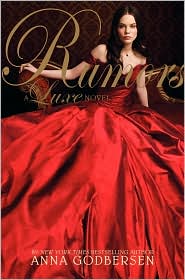 (
note: since this is the second in the

luxe

series, there are references to the first novel that are spoilers if you haven't read it...though you really should get on that)
in a sentence or two:
the lives of new
york's
most luscious characters are still as deliciously intriguing as ever. Elizabeth found Will in
california
on the brink of oil-wealth, Diana and Henry's love is burning hotter than ever, Lina is trying to make a name for herself as a former housemaid turned society girl, and Penelope is still the raging
bee-

yotch
she's always been.
romance and
intrigue
really do fuel the fires of this book. the
elizabeth
and will storyline is too sweet to handle (but you do handle it, of course). you can
almost
forgive the fact that she abandoned her mother and their horrible financial situation by faking her death in order to make her own personal quaint little
existence
happen. a fact that has almost killed Mrs. Holland (
elizabeth's
mom) makes you re-think that
assessment
. when it comes to
diana
(little sis) and
henry
(former fiance of
elizabeth
), his adoration for
diana
must be kept in check so as not to appear as if he's rushing past the death of
elizabeth
just to be with her sister - scandalous! and a bit
creepy
really.
lina
, the former housemaid of the family, is trying desperately to make a name for herself as a society girl with some help from
penelope
(former best friend/social rival of
elizabeth
).
penelope
is all too consumed with trying to woo
henry
back, or force him back, or do
whatever it takes
to get him back.
if it sounds complicated to follow or very much like a soap opera...it is! and that is what makes it so
delicious
.
godbersen
is thankfully gratuitous with details such as what their gowns are made of, how the lighting plays on their shoulders, and even down to the
subtle
public gestures like fluttering eyelashes or restrained smiles that make the society ladies what they are. she is also
gratuitous
with the inner thoughts and emotions of the characters, being careful to use equally lush phrasing to complete the overall
feel
of the book.
as
others have noted
, i had a bit of a hard time feeling like i was going to be interested in the rest of the series. it felt predictable to a point, and while i was loving the richness of detail and scandal that oozed from the pages...i thought i could take or leave it overall. THEN the twist in the last few pages shocked me from placidity and made me yearn for envy!
godbersen
carefully weaves the 5 different stories into one complete volume. she takes the time to provide enough character analysis for the major players to keep you in check, while making sure the story moves along. she really is quite crafty! the introduction of new characters is for sure a good sign of more twists and turns to come, and i am all
aboard
the 1900 turning point - sure to be bursting with even more
cattiness
, scandal, romance, secrets, girlish squeals (from me), and lush detail - in the series!
fave quote:
"'I love you.' He said it simply, quietly. He didn't say those words as she had imagined them said so many times by characters in novels. He didn't say them with desperation, with pleading, with fluid rage or florid persuasion. He spoke without lasciviousness; he spoke only with the intention of being understood."
[insert my girlish squeal here] (Henry to Diana, 286).
fix er up:
i preferred some
story lines
over others, and so found myself a little
pouty
when the next chapter wasn't one i wanted, but of course, enjoyed it none the less. also,
penelope
wasn't as outrageous as i was hoping for
though out
the novel...but i do feel that is going to change in the future one(s).
title: Rumors (The Luxe Series #2)

author: Anna

Godbersen

genre: Historical Fiction, Chick Lit