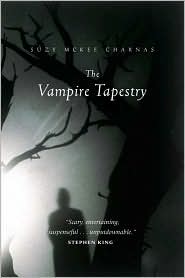 in a sentence or two:
an in depth character study and observation of dr. Edward Weyland (vampire) and a few of his more intimate human encounters
in the 5 sections of the vampire tapestry, there are 5 separate accounts of the life of Edward Weyland. beginning with his near-death encounter with a suspicious collegiate faculty, we are taken on a journey of personal thoughts and feelings (or lack there of) of Weyland and the people he comes to know.
there isn't much time spent on the genealogy or origins of Weyland, mainly because he isn't aware of any. that fact, among others, sets us up for a very interesting character study of the lone member of perhaps the most intriguing and infatuating supernatural being ever.
throughout the five sections, Weyland is accused of rape, held hostage, goes into therapy, gets swept away by the opera Tosca, and is stalked by a satanist who wants to use Weyland for his own gain. through the eyes of Weyland we see the weakness and emotions of human kind (his cattle, as he calls them) as well as the lack of understanding or care on behalf of Weyland.
as bizarre as it may sound, the best way for me to describe this book is that it is a character study of a vampire in modern times. it shows how people would interact with one, and how he interacts with them. his solitude and complete lack of interest (well, almost complete) in his prey (that's you and me folks) create a sad, intriguing, complex, yet basic creature that i found to be really fascinating. there are suspenseful moments and plot twists, but at it's core this book is an in-depth exploration of what / who a vampire is.
it was sooooo gooooooood! Charnas creates an amazing character with Edward Weyland, and using 5 different 'stories' within the story is an excellent way to keep the story shifting and changing. while any of the 5 sections could be read individually (apparently the section 'Unicorn Tapestry' won the Nebula Award) they are much more cohesive and rewarding as a whole. also, i feel like i was attracted to Weyland in spite of myself throughout the book...which is odd because he is repeatedly described as heartless, nonchalant, uncaring, etc etc.
while i'm not the most well versed on vampirical fiction (and i intend to change that), i have heard that this is the quintessential vampire book, and i am strongly inclined to agree! the way he survives, the way he hunts, and the way that humans play into his existence is simply fascinating.
fave quote:
"On a Tuesday morning Katje discovered that Dr. Weyland was a vampire, like the one in the movie she'd seen last week". (opening line of the book baby!)
fix er up:
nothing i can think of. pretty solid read.
title: The Vampire Tapestry
author: Suzy McKee
Charnas
genre: Vampire, Drama, Lisa's Fave