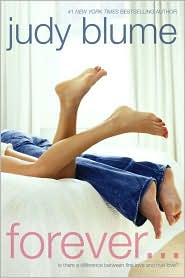 in a sentence or two:
Katherine
is a senior in high school who takes the time to really think through relationships and sex. so when she meets
Michael
, she will have to decide if and when she is mentally, emotionally, and physically ready for...should she even think the words 'sex' and 'love'?
Katherine and Michael meet at a new years eve party, where he is so immediately interested in her that he comes back the next day for a chance to see her again. their 'weekend only' relationship is tough for the puppy love teenagers. but as they learn more about each other and spend more time together, the pressure for more physical expressions of their relationship start.
throughout the book, we have Katherine and Michael, Katherine's friend Erica and Michael's friend Artie (Artie might be gay, but Erica is determined), and Sybil (the girl who hosted the NYE party and is intimate with far too many guys).
Blume
takes the time to explore all of these relationships in her story, which creates a diversity and realistic feel. she takes a good look at the journey of first love. the inside cover blurb says that Katherine is in love with love, while Michael is in love with Katherine.
i'd
say that's a pretty solid analysis, at least for Katherine as the narrator.
i've
heard
sooooo
much buzz about this book, and i think i expected more. now, of course this was written in 1973 so the subject manner (sex) and the way it was dealt with (not scary, but
thoughtful
) was groundbreaking. i think some of that is lost on me because of the generation i come from, but i still found myself giggling at parts and nodding in understanding at parts. proof that first love and relationships have some undeniable similarities.
at times poorly veiled advice for sexual
relationships
, at other times insightful, this book was one that kept me thinking after
i'd
finished. Katherine's family is understanding, supportive, loving, and patient. i think that of all the advice
Blume
sprinkles in the book - that is the nugget i took out of it. the good news is, there are many nuggets to choose from!
fave quote:
"...because I love you too,' I whispered into his chest. Saying it for the first time was the hardest. There"s something so final about it. The second time I sat up and said it right to him. 'I love you, Michael Wagner.' 'Forever?' he asked. 'Forever,' I said."
(75)
fix er up:
while i know that some people find the idea that Michael calls his weenie Ralph funny, i find it bizarre and silly goose. there's just something about penis-names that weirds me out.
title: Forever
author: Judy

Blume
genre: Coming of Age, Chick Lit, Romance, Challenged Title (pretty

regularly

)