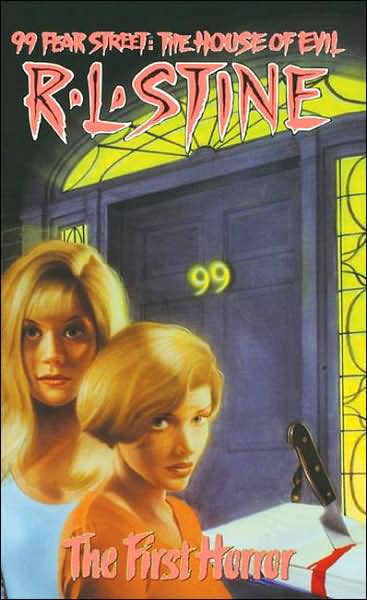 in a sentence or so
: the
frasier
family moves into what may be the creepiest and dingiest house ever. much scariness ensues.
i checked this out on an impulse during my last trip to the library. i thought, R.L. Stine? Fear Street? yes please! i anticipated a cheesy joke of a horror book that resolved itself and everyone was happy in the end. that's how i thought i remembered them being from when i read them 15 years ago. apparently, i need to get my memory checked.
Cally and
Kody
(twins), their brother James, and their parents move to 99 Fear Street,
Shadyside
. not only is the real estate agent a super-creep, the house is a total wreck and it appears to be haunted right off the bat after nearly decapitating Cally the first time she steps on the porch. but, Mr. and Mrs. Frasier (that's right, we never learn their actual names) insist that this will be a fresh start and lots of space for the former New York residents. but as things get weirder, and they discover attacking rats, ceilings dripping with blood, and green vomit coming from the sink...the
Frasiers
decide to do a little research about what they've gotten themselves into.
what they discover about their house on 99 fear street is unnerving, surreal, and downright creepy. let me tell you, R.L. Stine packed more horror into this book than i thought possible. granted, my bar was set pretty low to begin with, but i was pleasantly surprised by the creepy scenes he was able to create and the fear i felt.
this felt a lot like a script for a horror movie. while there are no token sex scenes (this is the mid-90s and a book for teens after all), there is a long drawn out kiss with the neighbor boy, working in a boutique in town, and hitting up a coffeehouse amongst the stabbings and disappearances. while the distractions may be fun in cinematic form, i found them to be dated and obnoxious in written form. i wanted more action! or suspense. or at least mystery...not wondering what high school was going to be like for them or if Anthony
really
liked Cally.
this book, while at times horribly dated and a bit hokey, was genuinely frightening. particularly near the end. i went through the first half with few surprises, but by the time i finished, i had to stay awake an extra hour doing other things to distract myself from the creepiness! as if the mere 150 pages wasn't enough to make this a quick read, the fact that every chapter ends in cliffhanger makes it almost
unputdownable
.
fave quote:
"
she had no way of knowing she would never see her brother again
" (115)
fix er up
: okay, i am a total sucker for being scared. so while this isn't the highest quality of literature, it gets the job done. the job being scaring the reader and making me want more!
title: The First Horror (99 Fear Street, No. 1)
author: R.L. Stine
genre: horror