Okay, I know it happens to the best of us. At least, I'm 99.9% it does.
I'm talking Jealousy. Yeah, with a capital J. I don't know if it's because it's the first of the year or if it's because there's just a lot of cool stuff floating around out there or what but lately, the green eyed beast has been getting the best of me. I've been seeing books that I've REALLY BEEN WANTING to read lately and it seems like people are getting their hands on them in
every
IMM/STS post I read. So then I'm all...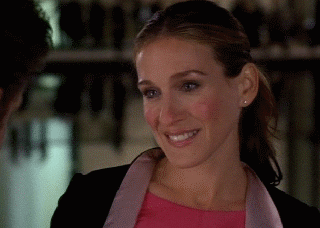 At first I thought it was just me, but after talking with my pal
Carrie
and seeing
this post by Molli at Once Upon a Prologue
, I realized that no - it's NOT just me. Phew.
Anyway, I need it to stop! So maybe the way to get that going is to confess and make a public plan for accountability? Let's give it a whirl.
Hi, my name is Lisa and I'm crazy jealous of the ARCs that other bloggers get. Sometimes, that jealousy makes me crabby and unpleasant. I don't like that. Here's how I plan to remedy the situation.
Remind myself that I'm not in the ARC game.
I made this decision because it was too stressful to try and keep up with all of the things. Sure, I still do Amazon Vine but it's not nearly as big of a commitment. I thought it wasn't fair for me to accept ARCs and then not read them for months (or...ahem...YEARS) so I stopped requesting. I need to remind myself that part of this is MY CHOICE. Not that I ever got crazy amounts of books, but enough that I was overwhelmed and there are books from 2011 that have yet to be read so YES. This was a good decision and I need to remember it.
Be thankful for my blogger friends.
HONESTLY I am so thankful for all of the lovelies that share their ARCs and finished copies with me. It helps me to read books a bit ahead of the game and get some publicity out for the book if I get it early enough, or if not it allows me to read it and pass the ARC along to my local HS library which wants all of the books I can offer them.
Review my blogging policy.
I blog for fun. If I get too wrapped up with ARC envy, it becomes not fun. The only person who can change that is me.
Stop making comparisons.
Is this a girl thing or WHAT? I can proudly say that I am not bitter that someone
else
has a book I want, I'm only jealous it's
not me
. I'm not all "What a snatch I can't believe she has Harry Potter #8 and I have to wait 9 years" but am instead like "Well farts. I WANT THAT BOOK and I can't have it so wahhh." I feel I need to make that distinction. I'm not a hater. I'm jealous.
When all else fails, avoid the temptation.
This past week I definitely did not read one single IMM/STS post. Not a one. And that's not because I'm not sincerely happy and excited for bloggers and their ability to get ARCs and share that bookish love with the community - as well as get some buzz for the author - but I'm having such a tough time right now with jealousy that I have to step back. I can't feed the beast.
So, my friends, what do you do when the green eyed beast gets her nasty claws in you? Any advice you can offer? Do share! We're in this together and I know I'm not alone here!