I'm not huge on writing recap posts. Mainly because I feel like what I've been up to is zzzz. I mean, we can't all be queen of the recap like
Jamie
, am I right?!
But some really cool ish has gone down in the last week that is TOTALLY WORTHY of being shared. So share it, I am!
BOOKS! YES BOOKS! Special, super rad, gorgeous ARCs to be exact. Thanks to
Gaby
and her ALAMW ninja skills, I have a new little slew of ARCs to stare at and drool over and whatever you get it.
Here's why I'm excited for these different little friends.
The Night Gardener by Jonathan Auxier
. I have PETER NIMBLE AND HIS FANTASTIC EYES which I liked but didn't love at the time. I am certain it was right book, wrong time, and now with this little companion to the story in my hot little hands, I'm ready to give it another go!
Season of Wonder (The Remnants #1) by Lisa Bergren
. I've heard nothing but praise for Bergren's writing and this futuristic dystopian sounds like it has enough science fiction in it to be a fresh take on the dystopian scene and I am all about that situation.
Death Sworn by Leah Cypress
. Magic! Assassins! Tutors! Oh you guys. You know me well enough to know by now my heart is racing and my eyes are all O_O with this one.
And now to the meat and potatoes. It's no secret of my adoration for The Chaos Walking trilogy by Patrick Ness. They are on pretty much every list I've ever made. I recommend them to everyone all the time. I just adore the writing and the story and just ALL OF IT, OKAY? Okay. (but seriously if you search "Chaos Walking" in my side bar, you will see my obsession compulsion dedication to the series)
So I saw Patrick Ness was going to be in Minneapolis on a tour for THE CRANE WIFE. I think my initial reaction was something like this.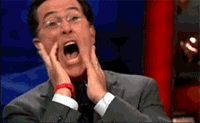 One of my favorite authors of ever was going to be within driving distance! Was 3 hours in the middle of winter a wise choice? Debatable. And debate I did. But thankfully my friends
Heidi
and
Asheley
, and my darling husband
Andrew
, helped me make my decision to go and see him on a Tuesday night when it was below zero. Thank goodness I did, too!
I will not go into the whole author signing and his discussion of THE CRANE WIFE and his answers to The Chaos Walking Trilogy and all the things, but know that Patrick Ness was everything I expected and then some. He is smart, funny, down to earth with a dash of silliness that is absolutely everything.
Of course, I took my books for him to sign and this is what he had to say!


For Lisa: Who had the last word! (because I asked the last question like a boss.)
For Lisa: Who took Davy personally. (I will not say more for fear of spoilers)
For Lisa: Nice to meet you in Minneapolis
Since I already had the rest of his works signed, I didn't bring those. I felt pretty full of myself at having a normal conversation with Patrick during the book signing and keeping my fangirl in check! Who knew I had such restraint? Surely not I.
My darling friend Eriks went with me to the signing and tried his best to get a picture of us and this was the result. I can't blame him though, because I'm pretty sure my feels caused some sort of atmospheric disturbance that impacted the lens on the camera phone due to their epic intensity.
Okay! Thanks for reading this! I hope you feel like this is a way for me to share the exciting news in my bookish life and not a way to flaunt my swag (please reference this
Book Rock Betty post
if you need more clarification on the difference).
I guess the tl;dr version of all of these things is I am blissfully overwhelmed by the awesomeness of the world sometimes.