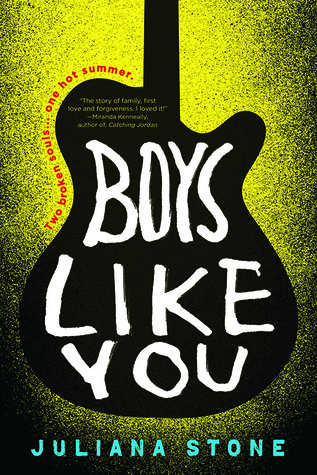 Title: Boys Like You
Author: Juliana Stone
Pub Deets: May 2014, Sourcebooks
Series/Stand Alone: Stand Alone
Source: Publisher via Netgalley
Monroe is trying to heal a hole in her heart by living with her Gram in the sweltering Louisiana heat all summer. Nathan is trying to come to terms with the worst decision of his life and how his life is changing. Together, they will heal.
Monroe and Nathan both had some demons to deal with - and not just "I cheated on my calculus test" demons. These problems are SERIOUS. Monroe has been in counseling (somewhat ineffectively) and Nathan has shut himself down from the world. They meet each other, are drawn to each other, and want to help each other.
I'm usually not one for books where the main character has to heal with the help of someone else, but ever since
Jen at Pop Goes The Reader
and I had a little chat about grief and healing in regards to YA characters, I'm more open to people relying on others for help and not hating them for it. Monroe and Nathan definitely rely on one another and only seem to get out of their funk when they think about each other.
Basically you read about Monroe and her grief and Nathan and his issues and grief and there are some SERIOUS sexytimes between them. Yes, it borders on instalove, but when you remember that these characters are emotionally devastated at the beginning, it isn't all that surprising.
BOYS LIKE YOU reminds me a bit of an ABC Family movie but with a PG-13 rating due to sexytimes.
Also, I couldn't help but picture Monroe as Lilah Garrety and Nathan as Tim Riggins. So that was amazing!
I could have really, really used some more authentic dialogue between the characters. And I get it, they find the other one sexy. We don't need to hear about it every chapter. The chemistry is there and we feel it.
"I've learned in my sixteen and a half years that therea re things that will surprise you because you don't see them coming. They can be hard, painful things and it's those ones that will live with you forever, bound to your soul in layers that grow thicker each year. Hopefully those layers will eventually dull the pain." (Kindle Loc 1618)