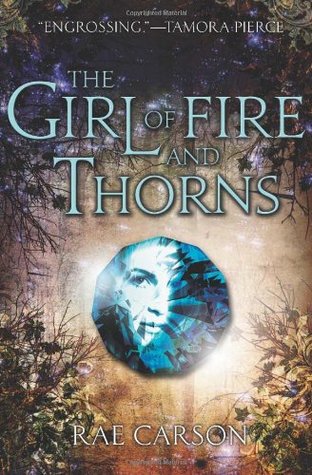 Title: The Girl of Fire and Thorns
Author: Rae Carson
Pub Deets: September, 2011 by Greenwillow (division of Harper)
Series/Stand Alone: Series!
Source: Bought with my cash money, yo.
Elisa has been chosen by God to do something special. She doesn't know what. She knows she's chosen because she has a Godstone in her belly button. Yeah, really. Whatever she's chosen for, you can bet it will probably be dangerous. Epic fantasy ensues.
Obviously I'm really into epic fantasy. It's kinda my jam. So I have no idea why I wanted SO LONG to read this series. I have no excuses. You were all right. It rules.
Elisa is on a journey to find her purpose. As a result, her character grows and changes and evolves and it is wonderful. There are swoony boys and heart pounding adventures and magic and castle intrigue and just everything that makes books worth reading, you know?
Also I had a hashtag for my tweets while reading but it looks like some of them are gone? Anyway, if you're curious, go check out #LisaandGoFat.
Elisa is overweight. Which is okay and I appreciate the diversity but man alive was that talked about A LOT to start the book. It fades away (mostly because Elisa loses weight along the way) but it was very distracting and annoying to start. I powered through though!
A hot cup of caffeinated tea to keep you up all night because you will NOT want to put this precious down. Also maybe some scones. Girl was talking about scones all the time and made me crave some!