Title: Jackaby
Author: William Ritter
Pub Deets: September 2014, Algonquin Young Readers
Series/Stand Alone: REALLY hoping for a series!
Source: BEA courtesy of Gaby courtesy of Algonquin Young Readers
(views are my own)
Adventure hungry Abigail Rook is reluctantly hired by the quirky paranormal detective Jackaby to help solve a series of murders in 1892 New England being committed by something quite assuredly not human.
I know most of you will be sold by the blurb comparing Jackaby to Doctor Who meets Sherlock.
And I know that I love most of you because it is SPOT ON.
Jackaby is eccentric but caring, brilliant yet lacking most social graces, and quite wrapped up in his own brain most of the time. He mostly reminds me of Ten (hello bursting of the ovaries) with a dash of Eleven thrown in and a big ol' spoonful of Sherlock. If this book ever gets made into a movie, I have no doubt that he will be the cause for many, many swoons.
In the book, however, he is not our romantic lead and romance isn't really on his mind either. Abigail is hired to help him keep the details of the case organized while he does his thing. Lucky for him, and for us, Abigail is organized, witty, and absurdly understanding with his eccentricities. She is the one that narrates this tale for us and does a bang up job, really.
JACKABY feels a bit Middle Grade at times in the best way possible. Instead of stereotypical YA angst and brooding, it's refreshingly funny and quick-witted. You love Abigail and Jackaby (and the extended cast of characters which I will not spoil for you) because they feel so legit.
I can't sing this book's praises loud enough. BUT I WILL DO MY VERY BEST.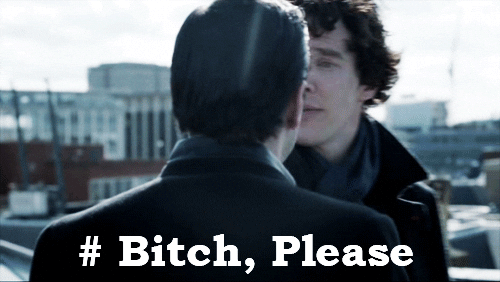 JACKABY was the perfect mysterious, funny, quirky, a little dark and a lot fun book I was looking for. It doesn't take itself too seriously but is still really well done and has some great characters.
So nothing. Nothing needs to be fixed.
Unless this is a stand alone because I'd really, REALLY, like more please and thank you.
I can't pick just one.
Deal with it.
"Jackaby, I was rapidly discovering, had a way of opening that corner of my brain. It was a quiet little corner in which I had lived when I was younger. It was a corner in which anything was possible, where magic was not an improbable daydream, but an obvious fact - if still only just out of reach" (82)
"She has saved this town and its people from countless monsters countless times. That the battles are usually in her head does not lessen the bravery of it. The hardest battles always are." (104)
"'Oh, that,' said Jackaby. 'Yes well, that wasn't withholding so much as borrowing, or possibly safekeeping.'" (178)