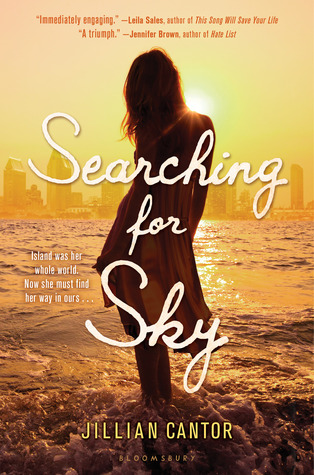 Title: Searching for Sky
Author: Jillian Cantor
Pub Deets: May 2014, Bloomsbury USA
Series/Stand Alone: Stand Alone
Source: Publisher via Netgalley
Sky and River have lived on Island as long as Sky can remember. When life brings them off of Island, Sky and River are separated, confused and trying to figure out how to fit in this world while discovering why it was they left it in the first place.
I loved the idea of a reverse dystopian. Sky and River have been doing the survival thing already, so fate bringing them BACK to civilization was absolutely fascinating to read about. They didn't know how to use the bathroom, or ride in a car, or what anything beyond berries, leaves and rabbits tasted like.
Cantor did a fantastic job with Sky's re-entry into civilization. Sky desperately wants her life to be the way it was. Everything in California is overwhelming and confusing for her. While I will never know that struggle, it definitely helped me relate to Sky and to root for her. I was crazy intrigued by the reason they went to Island and couldn't get enough of that slow reveal. So good.
I've never read anything like SEARCHING FOR SKY before and I'm so glad that has changed! I really enjoyed the book (save for that ending stuff I mention in a moment) and will definitely be recommending this one out.
As fascinated as I was with Sky's re-entry and her back story, I was completely disappointed with the resurfacing of River and the drama that ensued from there. It was clunky, not very well developed, and completely unnecessary to the overall plot for me. Again, Sky was the shining element of this and bringing in the runaway stuff at the end just left me disappointed.
"
Now I am a girl without a place. It's worse than hunger-- It's the saddest, most lonely thing I've ever felt.
" (Loc 665)
"
But now I'm not sure. The way Ben told it to me, it was as if they were running away from something terrible, not running toward something beautiful. And I don't understand how that can be true.
" (Loc 1905)