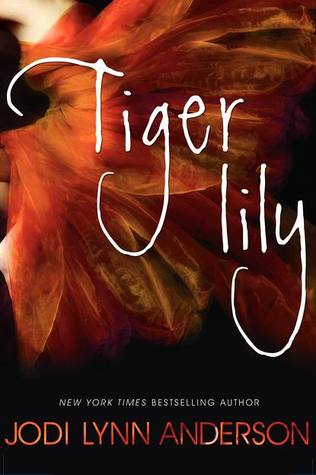 Title: Tiger Lily
Author: Jodi Lynn Anderson
Pub Deets: 2012, HarperTeen
Series/Stand Alone: Stand Alone
Source: Purchased
A quiet, complicated love story set in a dramatic, dark Neverland where enemies lurk around every corner and changing times are not a welcome development.
I was warned by everyone that this book would punch me in the face with the feels.
Everyone was right.
And since this book isn't a typical book, I don't think a typical review will do it justice.
So instead of summarizing the plot or my reactions, I want to share with you the three emotions that I felt most predominantly while I read Tiger Lily. And you should know it wasn't easy to narrow it down to just three because this book PACKS IT IN, YO.
Yeah, basically the entire time.
Apprehension over what would happen with Tiger Lily and her village.
Apprehension over what would happen with Tiger Lily and Peter because we know it doesn't end well.
Apprehension over what happens with the Englishman and his changing the values of the village.
Yeah so basically everything.
I couldn't put this down. I never wanted to.
I felt like I was constantly on the edge of weeping, but I didn't want to stop reading.
I knew my heart would break, but I didn't want to stop reading.
Anderson weaves so many elements into this story that fit together absolutely perfectly.
The dynamics of Tiger Lily's village. Her reputation in the village and her relationship with Tik Tok was so well developed and authentic. Even her relationships with the other villagers were incredibly detailed and three dimensional.
The quiet tone of the book lends itself to contemplation and that is exactly what I did. I didn't rush (although I did read it in two days), I savored. I pondered. I reflected on why Hook aged but Peter didn't. There's so much food for thought and social commentary and just LIFE packed into this little book. So very much.
KLEENEX.
"An unspoken rivalry threaded their relationship, in which Tiger Lily thought that if she could keep up with him, she could hold tighter to him. It didn't occur to her there was anything in which Peter wanted her to fail. But sometimes I could see that, even for him, she was too fast, too sure-footed, and didn't see to need him quite enough."